July 15th, 2014
Comments off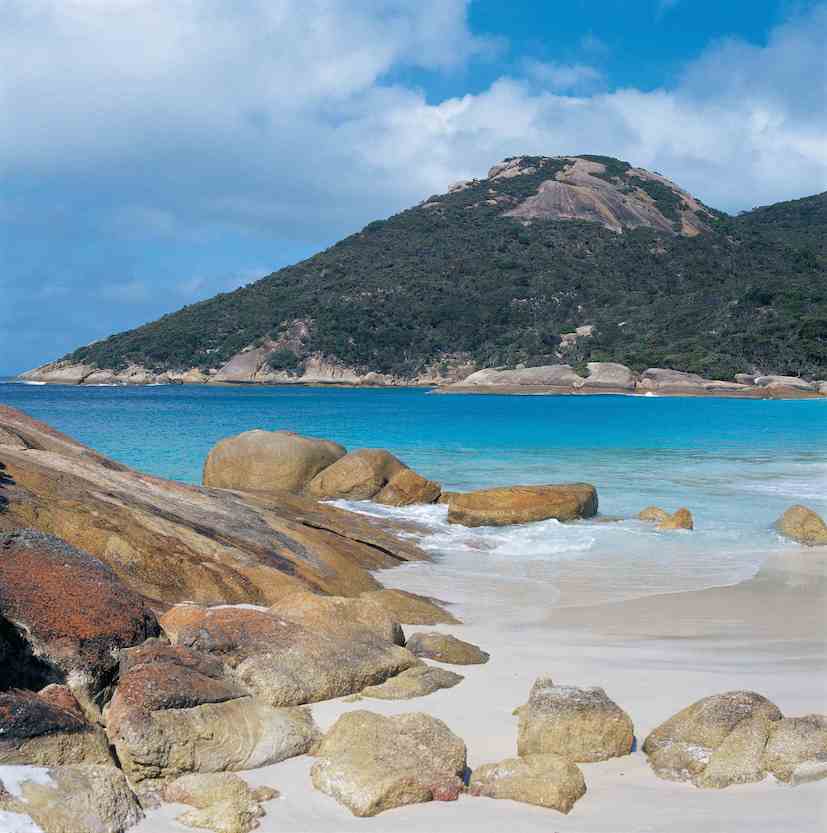 With a campervan rental in Australia at the ready, there are plenty of parks dishing up views that are a feast for the eyes. Here are five to ponder when considering where to park your campervan while cruising Down Under.
VICTORIA – Cowes Caravan Park, Phillip Island
CAN anything top the sound of waves lapping at the shoreline and views right over the Western Port bay? It's the recipe for a perfect night's sleep – right after you've exhausted yourself exploring beautiful Philip Island in the morning and afternoon. Cowes Caravan Park is a beauty, just over two hours south of Melbourne, with sites right near the beach. The park is also pet friendly so your pooch can even enjoy the views when they're not biting the breaking waves. The beauty of this park facing a Phillip Island quiet bay beach is that it's an ideal family holiday park with some safe shallows providing endless entertainment for youngsters. It's also perfect for swimming, beach walks, rock pool exploring, wind surfing, sail boarding, boating and some good beach-based fishing. Visit  cowescaravanpark.com.au
NSW – Merimbula Beach Holiday Park
One day in Merimbula we poked our heads out from a cabin and sprinted to the cliff-side viewing area at Merimbula Beach Holiday Park to watch a performance by some Humpback whales only 100m out from shore. It was mesmerising stuff, complete with the sounds, the smells and sights as everyone else in the park joined us and there was no shortage of oohs and aahs. Perched on the very edge of the point at Merimbula with spectacular ocean views is BIG4 NRMA Merimbula Beach Holiday Park. The ensuite and powered sites offer magical water views. Visit merimbulabeachholidaypark.com.au 
QUEENSLAND – Cotton Tree Holiday Park, Sunshine Coast
IS there a better park to stay at than one offering endless hours of sunshine, a gorgeous beach to soak up the rays and hit the waves, and a calm river to drop a line in or go windsurfing? Cotton Tree Holiday Park on the Sunshine Coast was winning before it was even built. Throw in an excellent big, spacious park with super facilities and you soon realise Cotton Tree is one of Queensland's best, especially with the spectacular views thrown in for free. It's often reviewed as being as great park for couples as much as it is for families, and is always clean and tidy with shops across the road and a bigger shopping centre only 10 or 15 minute stroll away. Be warned: if you want a waterfront site you're best to book well in advance. They're popular and are usually snapped up months out. Visit  sunshinecoastholidayparks.com.au
SOUTH AUSTRALIA – Discovery Holiday Parks, Lake Bonney
SET opposite beautiful Lake Bonney in the Riverland town of  Barmera, this caravan park is hard to top in South Australia for great facilities and some of the best views in the south. It's best described as an aquatic adventureland overflowing with family friendly water sports opportunities including a popular water trampoline, swimming pool, fishing spots and more. It's only about a two and a half hour drive from Adelaide and boasts a Mediterannean-esque climate.  Good weather, great views, plenty to do and a beaut little park where you can set up camp. Visit discoveryholidayparks.com.au
WESTERN AUSTRALIA – Middleton Beach Holiday Park
MULTI-award winning BIG4 Middleton Beach Holiday Park is set on 500m of  beach frontage at Middleton Beach, near Albany on Western Australia's south coast. This region is home to a gorgeous coastline quite different to the east coast, and the views from Middleton Beach Holiday Park are killer. It's also a hotspot for swimming, surfing, scenic walks, seasonal whale watching and great nearby food and wine. Visit holidayalbany.com.au
SCOTT PODMORE
The post 5 Australian caravan parks with killer views so good you won't be able to return home appeared first on DriveNow Blog.